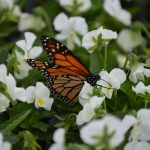 Violas are the little brother of the Pansy
Gardeners who seek cool season color in their garden will find 18 count flats of Violas at Ruibal's.
Select the flower colors that suit your garden design. Choose plants that are stocky with dark green foliage.
Violas perform best in a garden location that receives morning  to full day sun and has well-draining soil. If the soil is not ideal, it may be amended to increase drainage.
Lifecycle: Annual
Uses: Beds, Container
Sun: Full Shade, Part Sun
Height: 6-8 inches
Spread: 8-10 inches
Bloom Duration: 14 weeks
OTHER RELATED PLANTS